My Journey - Chef Jeffery Scott - Paso Robles, Edna Valley - Vineyard Events
How I got here...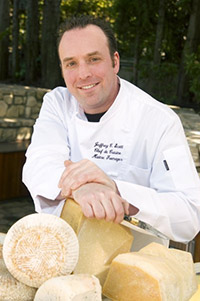 In 2006, Chef Jeffery was on top of his culinary career – little did he know it could get even better. He was working as a private chef in Los Angeles, crafting menus and executing rare and fine wine dinners for the rich and famous. He was Chef de Cuisine at the Playboy Mansion and one of the foremost authorities on artisan and farmstead cheeses in California as a certified Matrie Fromager.
When he heard about the budding Rhone Ranger winery named Tablas Creek in Paso Robles, and the exciting new varietals and food-friendly wines they were producing – he wanted more. So he blindly called up Tablas Creek's winemaker, Neil Collins – and pitched him on a wine and cheese pairing event. The result was monumental... a lasting friendship, a new catering career and a legendary wine and cheese event that touched lives and palates forever. With 18 wines, 26 of the most rare and finest cheeses in the world and 50 people in attendance - Chef Jeffrey fell in love with his new friends in Paso Robles – and the idea of making the Central Coast wine region his new home.
Today, Chef Jeffery is one of the most respected caterers among the Central Coast. With a focus on cuisine inspired by Paso Robles wines and an incredible network of local artisan purveyors – Chef Jeffery is living his dream while creating lasting food and wine memories for both Paso Robles locals and visitors alike.
From his sought-after Wine Club Pick Up Parties and Private Wine Dinners to his kick-back and relaxed Burger Days, Chef Jeffery Scott is the premiere choice for quality wine country catering with a personal touch.